Vegan Welcome by VeggieHotels
Vegan Welcome is a project by VeggieHotels, the first hotel cooperation for purely vegetarian and vegan hotels, Bed & Breakfasts, seminar- and health centers.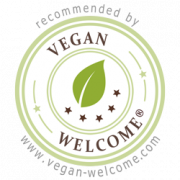 For many years we traveled together for both business and pleasure. It was a dream existence, one would think, and yet something fundamental was missing. As travel writers and long-time vegetarians and vegans, we often had some difficulty finding good food on the road – for what use are beautiful rooms and enticing pools when all you can order in the restaurant are the side dishes?
Extensive research then brought us to the aha moment: they really do exist! Hotels where the staff are delighted and not confounded when you ask whether they have any vegetarian or vegan options. The chefs in these establishments cook with so much love and passion that their restaurants have become true finds. The hotels take care of everything a food lover could possibly want, bringing vacations back to what they were always supposed to be – a time to relax and enjoy yourself.
What began as a private pursuit grew into the two web portals, www.veggie-hotels.com and www.vegan-welcome.com. Established in 2011, _VeggieHotels became the world's first directory of strictly vegetarian and vegan hotels, bed & breakfasts, as well as seminar and health centers. The listing now contains well over 500 hotels around the world.
We added VeganWelcome in 2015, a hand-picked selection of especially vegan-friendly hotels, including a number of entirely vegan establishments.
VeganWelcome hotels are dream destinations for fans of plant-based sustenance – and a whole lot more. They are also highly recommended for anyone interested in a healthy diet and lifestyle as well as sustainable travel. Those of a curious nature, who are open to exploring the world and would like to learn all about vegetarian and vegan gourmet cuisines, will find plenty of insider tips here.
More and more establishments whose menus traditionally feature meat and fish are embracing plant based food and offering their guests excellent vegan meals alongside their conventional dishes. The VeganWelcome properties are ideal places for families and friends to stay when not everyone has (yet) developed a passion for strictly vegetarian or vegan menus.
In every hotel, guests come to enjoy new, creative, vegetarian, and vegan cuisines that will even satisfy the most selective gourmets.
And yet the VeganWelcome hotels have much more to offer than just a healthy diet—they provide everything that does a body, mind, and spirit good: from cooking classes and holistic wellness packages to individual health and prevention programs.

Enjoy your vegan-vegetarian vacation!
Karen Klein, Thomas Klein, Peter Haunert
Founders of VeggieHotels® and VeganWelcome®