LUX* Grand Gaube
Grand Gaube, Mauritius
An Indian Ocean paradise, reinvented
On the northern shores of Mauritius, LUX*Grand Gaube emerges refreshed and reimagined from one of the biggest and most ambitious redevelopment projects in LUX* history.
The interiors vision of Kelly Hoppen MBE has been combined with the timeless tropical aesthetic of Mauritian architect Jean-Francois Adam to create a five-star refuge from the busy world. LUX* Grand Gaube is an uplifting and inspiring cocoon of understated glamour and easygoing luxury.
Here, life is lived to the rhythm of the ocean, with a fresh and fun-loving island spirit.
The location
The bays and beaches of LUX* Grand Gaube are natural playgrounds for water sports fans and the island waters, rich in marine life, are a diver's dream. On land, golfers have a sea-facing driving range and the 18-hole Mont Choisy course nearby; and tennis lovers can turn to the Academy for expert instruction.
Foodies and restaurants
From Peruvian-Argentinian fusion at INTI and charcoal grills at the Creole Smokehouse to the Turkish delights of Bodrum Blue and the global gourmet theatre of Palm Court, the resort's 6 restaurants and 7 bars ensure that every meal is a marvel and every sunset cocktails a station.
Keen on Green – vegetarian and vegan dishes
With our Keen on Green concept, the healthy foodie can now enjoy a range of plant-based cuisine incorporated into the a la carte menus of every restaurant where we offer vegetarian and vegan items that fit the restaurant's concept and ingredients on hand in the kitchen. A lot of fun testing and tasting of dishes, and they just happen to be healthy.
All Keen on Green dishes feature a calorie count, highlighted by a Keen on Green logo. A set of strict guidelines and standards are drawn up to prioritise healthier cooking methods. Certain ingredients are banned such as Monosodium Glutamate (MSG), refined oils and non-sustainable ingredients. Deep-frying and saturated oil used in food preparation will be reduced to the minimum, or replaced by healthier fats, such as extra virgin olive oil, coconut oil or hemp oil. These ingredient-driven dishes require creativity in modern cooking.
Keen on Green is not just a mouth-watering selection, but a vital initiative for the wellbeing of our planet.
Accommodation
Elegantly relaxed beach-house chic with a touch of romance – Kelley Hoppen has designed the 186 bedrooms, suites and villas to inspire the senses, incorporating a warm and graceful color palette, the highest –quality soft furnishings and multiple textural layers.
At LUX* Grand Gaube, every space has a soul.
Wellness and Spa
Natural textures and soothing shades imbue every corner of the resort with serenity, nowhere more than at the new-generation LUX* Me Spa.
Here, wellbeing is personal, with innovative tailored programs to relax mind, body and spirit, as well as Shirley Page aromatherapy, skin treatments, LUX* ME nail bar, Kerastase hair salon and the LUX* Barber services.
Sustainability
The resorts focus on sustainability ranches from banning the use of any single use plastics, growing organic and pesticide free products.
Reason to bee
The resort has its own beehives.
We look after nine colonies that enrich our surrounding biodiversity.
The honey, which we produce, is served for breakfast and as part of our a la carte menu.
Guests also have the opportunity to purchase and bring it home with them.
We provide the right environment for discerning travellers looking for the code of green practices.
| | |
| --- | --- |
| | Vegan friendly |
| | Raw food diet available |
| | Gluten free diet available |
| | Lactose free diet available |
| | Breakfast available, Half board available, Full board available |
| | Public restaurant |
| | Biological care products |
| | Allergy friendly rooms |
| | Accessible for disabled people |
| | Internet connection available |
| | Family friendly |
| | Swimmingpool |
| | Ayurveda, Yoga, Meditation, Tai Chi / Qigong, Cooking courses, Cycling, Water sports, Golf |
| | Spoken language(s): English, French, German, Italian |
Number of rooms: 186
Price per room from: 239 EUR
For prices and availability please use the booking request or visit the website of the hotel.
Booking request
Address / Contact

LUX* Grand Gaube
Pointe Rejane, Grand Gaube
30617 Grand Gaube
Mauritius
Phone: +23 0204 9191
Fax: +23 0288 2828

Special offers
LUX* Grand Gaube, Grand Gaube, Mauritius
Festive Special Offer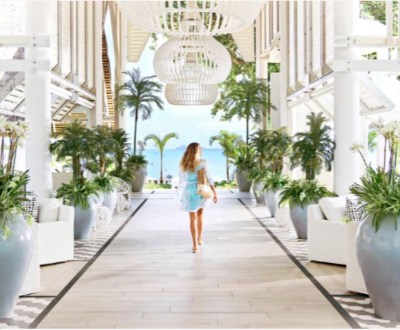 AN ECLECTIC L IFESTYLE RESORT
A pioneering vision from designer Kelly Hoppen delivers an eclectic retro-chic lifestyle that's effortlessly sophisticated, yet blissfully informal. Amidst lush tropical gardens, LUX* Grand Gaube is enveloped by undulating coves, the calmest of lagoons and is blessed with two tranquil beaches and two spectacular swimming pools. A global culinary journey leads to live cooking stations at The Palm Court, Peruvian cuisine at INTI, authentic Creole flavours at Banyan and a Turkish twist at Bodrum Blue. Add our famous Café LUX*, the Beach Rouge dining club plus a host of surprises at every turn the resort living has never looked or tasted so good.
Healthy fine dining vegetarian-vegan included in all outlets
Two weekly yoga classes, meditation Complimentary
Healthy amenities add-ons in Wellness Junior suite
Special 15-25% discount with blackout dates
Plant based drinks at Café

LUX

*
Event dates:
BOOKING PERIOD: 17.11.23 – 14.12.23
ARRIVAL PERIOD: 20.12.23 – 23.12.23: 25% DISCOUNT
ARRIVAL PERIOD: 24.12.23 – 02.01.24: 15% DISCOUNT
ARRIVAL PERIOD: 03.01.24 – 04.01.24: 25% DISCOUNT
DISCOUNT APPLICABLE PER PERSON PER NIGHT ON BED & BREAKFAST BASIS ONLY

All offers subject to availability. The terms and conditions of the respective provider apply.